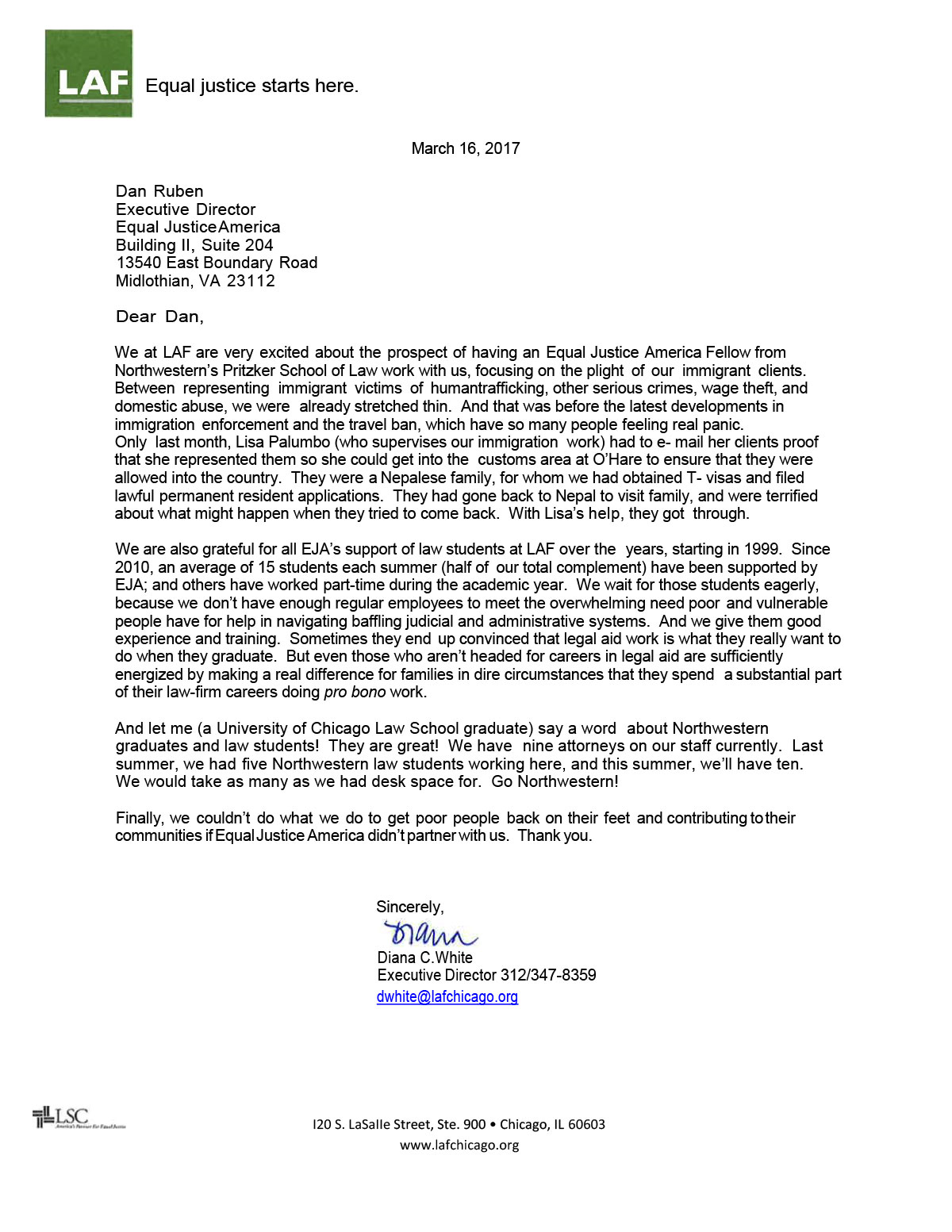 Northwestern Law and LAF discuss exciting new EJA Immigration Fellowship
From: Katherine W. Shank
Sent: Monday, March 13, 2017 5:30 PM
To: Cynthia A Wilson
Subject: EJA 2 year immigration fellowship at LAF for Northwestern 3L
Dear Cindy,
We are thrilled to share with you the position announcement for a two year immigration law fellow at LAF which is being funded by the generosity of Equal Justice America. This position is limited to only Northwestern Pritzker 3Ls who will be graduating this May and will sit for the July bar exam. The position will be in LAF's Immigrant and Workers' Rights Practice Group focusing on immigration work and will start in fall 2017 and end fall 2019. The application deadline date is April 1, 2017.
This position could not come at a better time and we are very grateful to EJA for making it happen. We know Northwestern will provide us with excellent candidates and look forward to the interviews.
Please let me know if there is anything else you would like me to do to advertise this position at Northwestern or if there is any additional information you need.
Katherine W. Shank | Director, Volunteer Services Unit
Legal Assistance Foundation
---
From: Cynthia A Wilson
Sent: Monday, March 13, 2017 10:32 PM
To: Katherine W. Shank
Subject: Re: EJA 2 year immigration fellowship at LAF for Northwestern 3L
Kate,
We are thrilled about this new fellowship! We will be sure to spread the word and try to send you some fantastic candidates. Thanks to LAF and EJA for creating this great opportunity. We are excited to be able to add one more new public interest lawyer to fight the good fight with amazing LAF colleagues. Thanks again!
Cindy Wilson | Clinical Professor
Director, Center for Externships | Bluhm Legal Clinic
Northwestern University School of Law